Fireside
At Fireside, we are connecting young adults for kingdom impact. We are a community of young adults ages 18 to 39, and we gather on Wednesday nights for community, worship, and biblical teaching.
Weekly Gathering.
Every Wednesday, we meet in the College Park Church Chapel from 7 to 8:30 p.m. We sing, study the Bible, and connect through small discussion groups.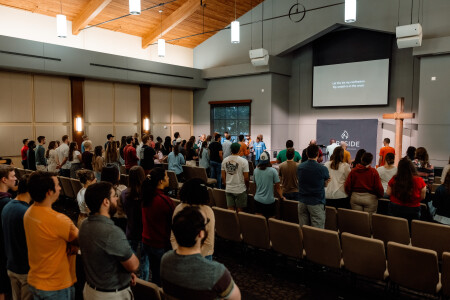 Stay Connected.
Stay up to date on events and gatherings!

Looking for a place to serve? Join our Fireside Team! Team members use their God-given gifts on Wednesday nights, at events, and beyond to make a difference in the lives of young adults.
Hospitality Team: Help young adults feel at home by greeting, assisting with check-in, answering questions, and supplying snacks
Worship Team: Use your musical gifts to lead in worship
Media Team: Use your production and social media gifts to serve the young adult community
Events Team: Use your creativity and connecting gifts to design and lead Fireside service and community events
Lead Team: Provide vision and care to all Fireside Team Members and community
Interested in one of these roles? Apply to Become a Team Member

Ten-Forty College.
Ten-Forty College is a CPC Sunday Class designed specifically for young adults between the ages of 18-23. Join us in walking through God's Word together and learning to live for Christ!
Sundays during Second Service (10:45am)
Chapel B
Launches September 10th!