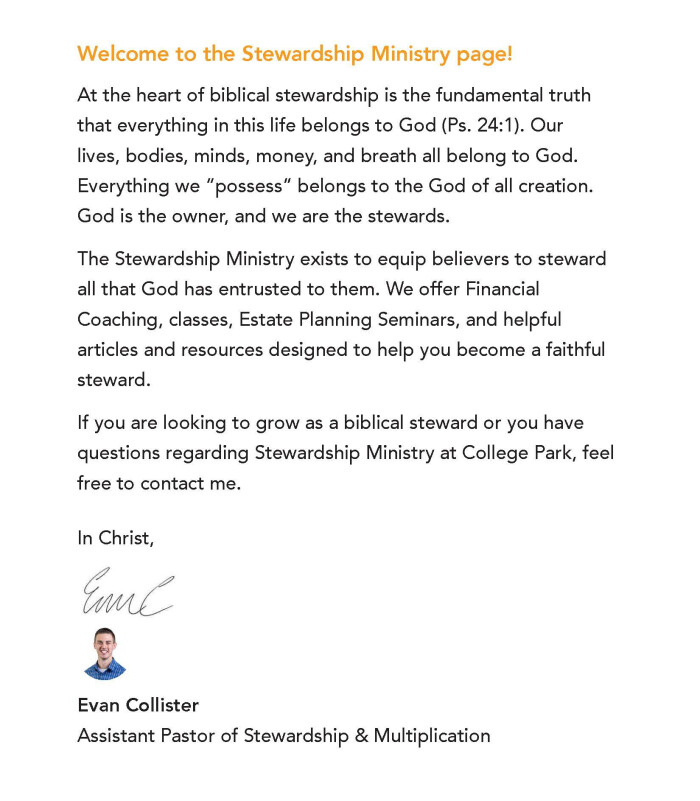 ---
Financial Coaching
The goal of the Financial Coaching Ministry is to guide people to financially follow Jesus. Scripture applies to every financial situation, and our team is ready to help you grow in your stewardship of all that God has entrusted to you. Fill out our Financial Coaching Request Form to take the next step and talk with a financial coach.
Estate Planning Seminar
What happens to your assets—your savings, your home, your vehicle, your stuff, your estate—after you leave this life? Do you have a plan?
Three times a year, College Park partners with Financial Planning Ministry (FPM) to provide estate planning education and document preparation for our entire church family. FPM will help you pass on your values and valuables to the ones you love.
Stewardship Digest
Stewardship Digest is a monthly newsletter focused on helping you pursue faithful biblical stewardship. It will provide you with helpful articles and resources from around the web that focus on helping you become a more faithful steward of the finances God has entrusted to you, as well as highlight upcoming stewardship events. Subscribe