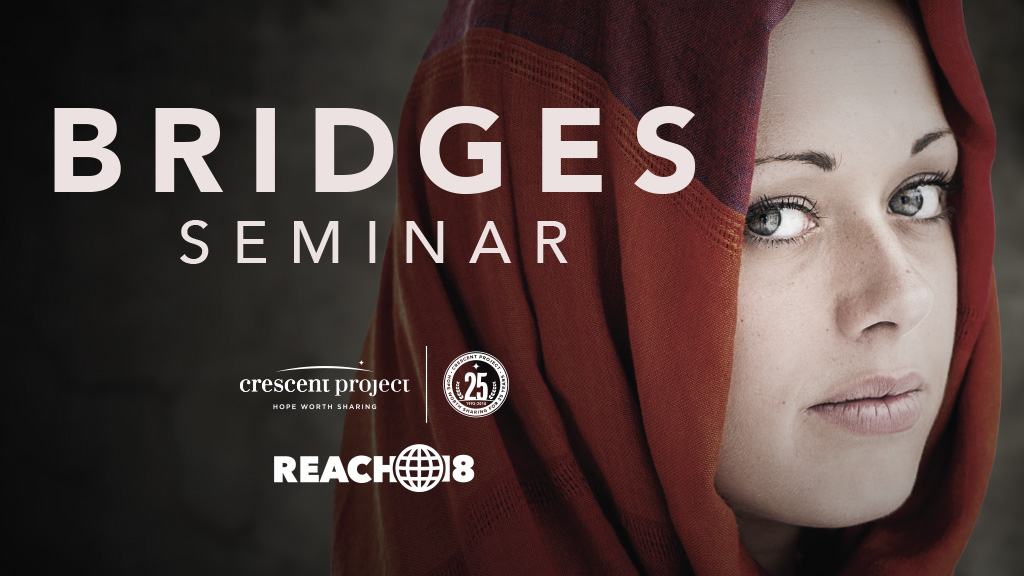 October 27, 2018 08:00 AM - 01:00 PM
Room: Chapel C
Attendance Limit: 220
Did you know that Islam is the fastest growing religion in the U.S., or that nearly 7 million Muslims live in North America? Most of them are still waiting for an authentic Christian witness. Come learn how to bridge that gap and share Christ with your Muslim neighbors.
The Bridges Seminar, held by Crescent Project, seeks to replace fear and intimidation with love and gentle boldness, reshaping the way Christians view and respond to their Muslim neighbors.
This seminar, held on Saturday, Oct. 27, will be from 8:30 a.m. - 1:30 p.m. The $40 cost covers the seminar materials, refreshments, and a boxed lunch. There is a reduced rate of $15 for College Park attenders.
"Bridges is a powerful tool for churches desiring to understand Islam and connect with Muslims in their communities." - Steve Richardson, Pioneers USA
"Crescent Project's training is practical, biblical and much-needed in today's climate of misunderstanding." - Ravi Zacharias, Ravi Zacharias International Ministries
Limited, registered child care is available, but registration closes on Oct. 20 (or when it is full). Since boxed lunches will be provided upon conclusion of the seminar, there is no lunch provided for children.
THIS BUTTON BELOW IS ONLY TO REGISTER FOR CHILDCARE AT COLLEGE PARK CHURCH. TO REGISTER FOR THE ACTUAL CONFERENCE, YOU MUST GO TO WWW.CRESCENTPROJECT.ORG. REGISTERING CHILDREN DOES NOT REGISTER YOU FOR THE CONFERENCE.
All College Park attenders will receive a discounted rate for the Bridges Seminar. To do so, please enter the code: CollegePark ($15 per person)
If you are registering as a couple, use the code: CollegeParkCouple ($25 per couple)
We are excited to welcome President and Founder of the Crescent Project, Fouad Masri, for the Bridges Seminar.
Fouad was born and raised in the war zone of Beirut, Lebanon. As a third generation ordained pastor, he has a passion for sharing the love of Christ with Muslims and has been reaching out to Muslims and inspiring others to follow his example since 1979.
After coming to the United States to attend seminary, Fouad realized the urgency for teaching American Christians to reach out to the growing population of internationals, particularly Muslims.
In 1993, he founded Crescent Project to nurture transformational relationships between Christians and Muslims and to rally the Church to reach out to Muslims to share the Good News of Christ.
Since then, he has trained more than 21,000 Christians to sensitively and purposefully share their faith with Muslims through both the Bridges One-Day and Sahara Challenge training experiences. He has served as a guest instructor at several universities and Christian ministries and has been featured in several media publications including Christianity Today, Newsweek, and Mission Network News. He has appeared on CBN, TBN, the Janet Parshall Show, and Prime Time America.
He is the producer and teacher in the DVD study, Bridges: Christians Connecting with Muslims. In Bridges, he further exposes Christians to the urgent need for a deeper understanding about Islam and Muslims.
Fouad has authored 14 books including Outreach Magazine's 2015 Cross Cultural Resource of the Year Connecting with Muslims: A Guide to Communicating Effectively. He holds a bachelor's degree in Mass Communication and an M.A. from Fuller Theological Seminary in Islamic Studies. Fouad lives in Indianapolis, Indiana, with his wife Lisa and their two children.1
Originally published at https://www.crescentproject.org/historybeliefs/.