Dear College Park Church Family,
On behalf of the College Park Church elders and Executive Team, I am pleased to announce that our candidate for Pastor of Congregational Care & Connection is Mitch DePoy.
When our former Pastor of Community Mark Schuitema transitioned from College Park to Pennington Park Church, we began evaluating the ministry needs within our church body, which led us to a redesigned pastoral role. Over the past months, I've worked with the Community Team on an interim basis to build relationships, ask questions, provide support, and discern how to most wisely position the role and team for the future. Our guiding values through that process were stability, care, communication, and mission. Our Executive Team and Community Team were both highly involved in this process.
Through our communications and networking, God brought us a number of very strong candidates–locally, regionally, and nationally. Yet through the search and extensive interview process, the interviewers have seen a unique match between this particular role and current College Park Church lay elder Mitch DePoy's gifting, experience, heart for discipleship, and passion. For example, the vision for this role leading further development of our parish shepherding model is a great fit with the groundwork Mitch has already laid as a lay elder. We are also excited about Mitch working with the others on the newly formed Care & Connection Team to help people belong, connect, and serve in expanded ways. Additionally, we see Mitch adding tremendous value to efforts to coordinate our Belong-Grow-Multiply strategy both intentionally and holistically.
On Monday, May 16, the elders unanimously voted to bring Mitch before the congregation for a member vote for affirmation as Pastor of Congregational Care & Connection. This vote will take place on Sunday, June 26 at our Congregational Meeting & Worship-Based Prayer Night. Should members affirm Mitch in this pastoral role, we anticipate his start date would be around August 1.
We encourage you to attend a Q&A time on Sunday, June 19 in Chapel A during first service. If you have questions before then, feel free to reach out via email.
Please join me in thanking the Lord for his provision and in praying for us as we anticipate the congregational vote at the end of June.

Paul Spilker
Lead Executive Pastor

---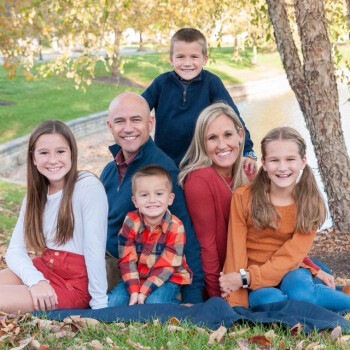 Hello Church Family!
My name is Mitch DePoy. My wife, Sarah, and I came to faith in Christ in 2009 through a broken marriage. God used the pain of that experience to soften our hearts to hear the message of his grace in Christ. Through the faithful witness and discipleship of College Park members David and Cindy Palmer, God saved our souls and our marriage! Today we are living together happily, though still imperfectly, and the Lord has blessed us with four amazing kids: Taylor (14), Morgan (11), Luke (8), and Landon (4).
Sarah and I became members of College Park in 2015. I have had the privilege of serving as a Small Group leader, adult Sunday school teacher, and lay elder in the West Carmel Parish. Sarah and Taylor enjoy serving as table leaders in Children's Ministries. Outside of church, I enjoy coaching the kids in Carmel Dads' Club sports, and Sarah enjoys fellowshiping with neighbors, volunteering at the kids' school, and taking care of our menagerie of pets.
A couple of years after coming to Christ, I sensed the Lord's call to pastoral ministry, and he opened the door for me to pursue an M.Div. at Southern Seminary. I completed my degree (after 7 years!) in December 2021. I believe God was preparing me for the role of Pastor of Congregational Care & Connection through my experience developing our deacon ministry at College Park and helping lead our parish shepherding strategy.
Paul wrote to the saints at Philippi: "I thank my God in all my remembrance of you. . .because of your partnership in the gospel. . .I hold you in my heart." (Phil. 1:3-7). The DePoys want you to know that we hold you in our hearts due to your partnership in the gospel. It is a blessing to serve you!
Mitch DePoy
Lay Elder