grOve blOg
The grOve blOg is an opportunity for students, youth leaders, and parents to make a contribution to our ongoing spiritual discussion about life, Jesus and what it takes to bring those two closer together in deeper ways. If you would like to submit an entry, send it here.
---
FAITH LIKE A VENDING MACHINE
:: written by a grOve homeschool junior
The weak faith just like a vending machine
We come with cash to purchase something free
And look for something cheap to make us clean
But don't except his gracious amnesty
Have we looked past the plastic shimmers gloss?
Onto the prizes we seek and don't retain
Have we considered the giver a loss?
And made the gifts the true ultimate gain?
O when I treat my Savior that shallow
I only lose hope and joy that fulfill
It's not by things we gain that we follow
But seeking the Giver of gifts, we please His will
To look upon His face and dwell in love
It's not by gain, but from His face above
This poem was inspired by this thought: Do we as Christians often treat God like a vending machine? You see with a vending machine, you have to give it something first before receiving the prize paid for. God is not like that at all! He's given us Jesus Christ for free! We bring nothing to the cross but our sin. I also wonder if we seek God's hand more than His face? Do we look "past the plastics shimmers gloss", the machine front representing the face of God, onto the prizes, that represent God's blessings? Have we considered the giver a loss and desired what He can give us? When we treat God that way, we miss out on a lot of joy He can give us in Himself! After all Psalm 24:7 says "One thing I ask of the LORD, this is what I seek: that I may dwell in the house of the LORD all the days of my life, to gaze upon the beauty of the LORD and to seek Him in His temple." Let this be your prayer, as well as mine! Seek God's face, not just His hand. Bring your sin to the cross, not your works because grace "is no longer on the basis of works; otherwise grace would no longer be grace" (Romans 11:6).
---
WHITE AS SNOW
:: painted by a grOver who is a freshman at Carmel High School
:: click image for larger view, painting's text below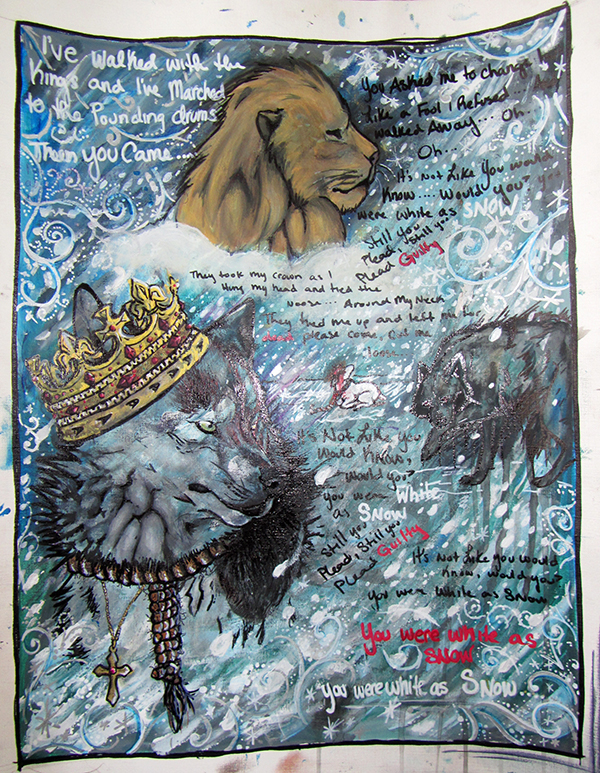 I've walked with the kings
And I've marched to the pounding drums
Then you came...

You asked me to change but
Like a fool I refused...
And walked away...
Oh... Oh...
It's not Like You would Know...
Would You? You were white as snow
Still you plead,
still you Plead Guilty
They took my crown
As I hung my head and tied the noose...
Around My Neck
They tied me up and left me for dead
please come, cut me loose...
It's not Like You would Know...Would You?
You were white as snow
Still you plead,
still you Plead Guilty
It's not Like You would Know...
Would You?
You were white as snow
You were white as snow
You were white as snow
---
REACH RHYME
:: written by a grOve senior, inspired by REACH11, College Park's global missions month
In America we have so much stuff filling our cups,
We've never lost our freedom so we freely give it up.
Were distracted by so much, there's nothing were deprived of,
For me its ballin' + music, mix the two and get coach-K-love.
We forget the eternal God, gave Him the cold shoulder,
We should be all in like hold'em but have the reputation of a folder.
Help me find my strength in You, I need You to make me bolder,
Because You have all the power, I can't put water in a boulder.
Help me never forget the things You've brought me through,
So now I cling to You like Sugerland, stuck like glue.
Who am I to hide my light, under a bowl,
Kinda like a fastbreak, help me run hard for the goal.
Ephesians 2 verse 2 tells how they're caught up in a snare,
Following the prince of the power of the air.
Man everyone dies kinda like Brian Bailey's hair,
But most people go to hell. The question is: Do you care?
This world is going down something like the Titanic,
But they don't realize they're sinking and they should be in a panic.
I envision thousands turning to Christ, if only they knew.
Christ is contagious, let's share Him like the flu.
So now I call upon my brothers, time to rise and be men,
"He who lives to live forever, never fears dying." - William Penn
Let's go hard for the Father, let's emulate Paul.
Lets keep Christ at the center, kinda like Paul Gasol.
You don't gotta go overseas. You don't gotta be a rapper making beats.
You just gotta preach the Word, bring the Gospel to the streets.
Tell them how He redeemed you when your life was a mess,
How He took the weight of sin and raised the bar like a benchpress.
We're commanded to preach the Gospel to the world. Obedience is essential,
So when it comes to putting forth energy for Christ, are you kinetic or potential?
We're told to witness to the nations but the goal's not getting them to heaven,
We're out to make disciples. you could call it REACH11.
Instead of judging others living on the other side of the tracks,
Lord, help me cross on over and start handing out the tracks.
Because time is wearing thin. Most people die around 70,
But Christ gives eternal life. That's what I call longevity.
I don't wanna be lukewarm. God help me to boil,
To grasp the weight of Your glory is like grabbing at oil.
I will look upon Jesus, the only One who satisfies,
So even when it's cloudy, I have the Son in my eyes.
Guys, don't let people look down on ya because of your age (1 Timothy 4:12)
Let's lead by example. This world, let's engage.
Let's be on fire for Christ. Let's get hot like a stove.
It's time to do work, starts right here at the grOve!
---
LESSONS LEARNED ABROAD
:: written by a grOver who is a homeschool junior after she returned from a short-term mission trip ::
It was June 22, the day I would go up to Chicago and prepare to leave America for 5 weeks. It seemed surreal. All that I had been excited about and praying for was finally happening and yet, I did not want to go. Maybe God had sent the message wrong. How was I meant to truly leave my friends and family for 5 weeks during my summer break? It seemed like a great idea and something to look forward to when it was 3 months away, but now it was actually before me. Before I left, little did I realize what great things I would learn during what would become the best five weeks of my life.
Prior to the mission project to Hungary I had been praying (along with many other people) that I would come back with stronger faith in God, a deeper love for Him, and a bigger passion for His people and the Gospel. I am happy to report that God answered those prayers, although not always in the way I would have picked for him to use. His path for me included good times, but also some hard times.

The first few days in Hungary went great. It was already better than what I expected. I enjoyed the people who had a passion for God and I also enjoyed getting to sing and listen to teaching during the week of orientation. Sadly, the peaceful walk took a turn that tested me beyond what I wanted. During this first weekend in Hungary, I got the hives, which was my first test. I had to go to the hospital twice in the late hours of the night, and it had me calling my parents at 3am in morning struggling with why this was happening now. Fortunately, my parents are older and wiser than I am and they reminded me on the phone that this was happening for a reason, God would get me through this, the power of prayer works, and to trust God…even during these tough times. In the heat of the moment it did not make sense and I did not want to hear or believe it. After the fact, I saw how true it really was and how I was able to use it as an example in sharing the Gospel with my campers that would come later. Lesson one.

Lesson two came not in a moment of despair, happiness, or need, but in a time specifically set aside to learn more about God. I was blessed to be a part of a discipleship group lead by Mandi Olson and Jen Noltrich, both missionaries to Hungary. During group time, we did a bible study that I was going through while in Hungary. It was the first part of the Bible study that most resonated with me. I was sitting in my dorm room after hearing a talk by one of the staff members, excited to do my Bible study and learn more about God. I was excited that I was excited to learn more about God, which was another prayer answered.

When going through the Bible study, I learned more about God's glory and how he does everything for His glory; how he loves us for His glory, how he saves us for His namesake, and how he cleanses us for his glory. At first, it struck me as such a selfish thing that I was just being used, and not cared for, by God. After talking to my discipleship group leaders, they told me that this is not a selfish thing that God does. They said that it is kind of like walking through an art exhibit. Now, if I were to walk through this art exhibit and keep my head glued to the floor and not look at anything else, it would be a "sin" for me to not look at the beautiful paintings AND, supposing that these paintings could talk, it would be a "sin" for these beautiful paintings to not cry out to me and tell me to look at them. This is what God does for us. He calls us to look at Him because He knows that we are most satisfied when we are focused on, and therefore glorifying, Him. I was able to tell my campers that this "hole" that we have in our heart can only be filled by God. We try to fill it and take this joy in having lots of friends, getting in a relationship, partying, doing drugs, you name it. But we cannot fill the inner void by any of that. Thankfully, God did give us a solution. It is Him, and it is serving Him when we find this joy. I got to experience this incredible gift during the mission trip. I really like this quote by Oswald Chambers, "God never made bloodless stoics; He makes passionate saints." This lesson would go on to affect the way I thought about the rest of the questions or thoughts that came my way…does this truly give glory to God?

The last major lesson I learned on the mission trip was that following God is not boring. Following God took me on an incredible adventure for 5 weeks serving Him in Hungary. Making that decision to leave my friends and family was the right one. God was not crazy or giving me the wrong message, but He had a perfect plan. It was full of hard times, fun times, and good times; many moments where I learned a lot or even just a little bit about God.
I now know there is a challenge for all of us. In what areas in our lives are we "Hungary"? Those areas where we know we need to trust God, but are just scared to let go? I know I still have these places in my heart where I need to trust God with everything. The question for us now is this: are we ready to let go of that area in our hearts, surrender it to God, and experience the greatest joy of our lives?
---
ART INSPIRED BY IGNITE SERIES ON THE GOSPEL
:: submitted by a grOver who is a sophomore at Herron High School ::
---
WINNER FROM GROVE PHOTO CONTEST
:: submitted by a grOver who is a homeschool junior (Click for full size view.)
---
THANK YOU FOR USING ME
:: written by a grOver who is a sophomore at Hamilton Southeastern High School ::
From the boom of Your voice,
You set the entire world in motion
You made the majestic colors of a sunrise
And even the complexity of human emotion
You've painted the bigger picture
Everything's in your hand
The life of a little baby,
And the heart of every man
You're kingdom is going to grow,
Whether I win a soul or not,
For you display Your glory
And all the power You've got
But God I thank You that, even though,
You know I don't always do things right
You choose to use me, anyway
To be Your shining light
Now there are many things,
In which I might not be, well, gifted
But I want to use what You've given me
To make sure Your name is lifted
I want to use my mouth and voice
To proclaim Your holy name
I want to use my hands and feet
To show Your love's a flame
A flame that both radiates and refines,
Molding me to be more like You
So, I want to give You everyday
And see Your promises hold true
So today I call on You,
To consume me with Your love
And bless me with opportunities,
To point people to the hope,
That comes only from above
---
LIVING BEYOND A SPIRITUAL HIGH
:: written by a grOver who is a senior at Carmel High School ::
Imagine spiritual fervor is sugar. Now imagine that you have a spoonful of icing on your tongue, bursting your taste buds at the seams with the sugary goodness of its flavor. It's so sweet and you just want more! To many people this sensation is what going to camp or a youth retreat feels like. You get on a spiritual high and feel close to God in many ways. The sensation created by the event's "spiritual icing" explodes in your soul like fireworks! Your taste buds are delighted. Your appetite for God is enormous and all you can feel is the wonderful hunger you have for the Spirit of God to move in you. You're excited; you become 'on fire' for Christ, ready to go out and serve Him with your life!

...But then you get back to real life. You feel great at first because you had such a good time, but you didn't want to leave. The atmosphere was so encouraging, the worship was so real there, but in a couple of days you have a hard time remembering just exactly what it feels like to have that fire, that feeling of spiritual fervor. It infuriates you because you know that you had it a couple of days ago, but it seems to have slipped out of your grasp without you knowing how. The icing slid down your throat with a sweet taste. It digested in your stomach, but the reality is that you can't taste it anymore and you don't know why. The sugary goodness is gone without a trace. Sometimes, it can even leave a bitter taste in its place. Over the next few weeks, you may ask yourself occasionally what could have possibly happened to numb your senses, because the fact of the matter is, you just don't feel anything anymore and you don't know how to start feeling again.

The problem is that you're worshiping the icing! You're worshiping the awesome feeling you get when you're spiritually excited rather than concentrating on a real relationship with the Creator of the Universe. The problem is not that we don't get spiritual icing all the time; we're not meant to. There will almost always be ups and downs to life. There will be inconsistency to your spiritual life at first. Many young Christians who struggle with true faith and an absolute trust in God tend to go flying on spiritual highs, but they crash and burn when they realize that the Christian life is hard. And it is hard. It takes work. It takes dedication. It takes sacrifice. And sometimes, it's painful. You can't just have icing all the time. Think about it. When you make a cake, the main part of it is the cake part, not the icing. The cake makes up the substance, it stands alone. It's less sweet than icing, but its consistency is more satisfying. It fills us up and subdues our hunger. So Christ fills us up and subdues our hunger! He is the basis for our entire Christian lives. There is a reason He is called the Solid Rock, our foundation. We build our very lives on Him!

Friends! Our lives need to be made up of spiritual cake! We need to have that substance. The inconsistency we once knew as infants in our faith vanishes as we grow in Spirit and in truth. 1 Peter 2:2-3 says, "Like newborn babies, crave pure spiritual milk, so that by it you may grow up in your salvation, now that you have tasted that the Lord is good." We are called to grow up as Christians! Never will we stop having the need to grow closer to God. It's not like when we reach our maximum height physically and we stop growing. No, because even if we grow our entire lives (which is like a moment to God), there will be a giant divide separating us from the glory of the Lord when we reach our dying breath. "Like newborn babies," 1 Peter says, "crave pure spiritual milk" Another way of putting it would be, "Like a starving man craves a meal, crave growth." We should have a hunger for Christ that consumes us! No matter how much we grow, we should always find that we are never satisfied with ourselves! We will never get enough of Christ here on earth. Ever. That's why Heaven will be so fantastic; because we will constantly and continually receive more and more and more of Christ every single moment for the rest of forever…Our mortal minds cannot begin to comprehend the enormity of that length of time. And I can guarantee that we will never be able to fully understand how awesome God is. So we should never be satisfied with the amount of Christ we can get here on this earth. We should always be striving to know Him more, to seek Him more, and to fall deeper and deeper in love with Him so that we can become more like Him all the time.

The reason people get discouraged about not being on fire for Christ is because they do not seek Him with all of their hearts! In Jeremiah 29:12-14 God promises us that, "[When] you call upon Me and come and pray to Me, I will listen to you. You will seek Me and find Me when you seek Me with all your heart. I will be found by you,' declares the Lord." Again, in Matthew 7:7-8, it says that if we ask of the Lord, He will give to us freely, if we knock on a door it will be opened to us, and if we seek we will find what we are looking for! The only requirement is that we ask, that we knock, that we seek God, and that we seek Him with all of our hearts — not like men and women looking for a spiritual rush.

A reason our lives aren't filled with spiritual fervor — that we aren't bursting at the seams and bubbling over with the pure unadulterated joy of the Lord — is because we have not yet begun to crave Him like starving men. We have not yet begun to thirst for growth of the Spirit like newborn babies thirst for their mothers' milk. We thirst for the approval of our peers and co-workers. We care more about being accepted by the temperamental, fickle human beings around us than we do about pleasing the unchanging and endlessly faithful God with our lives. We call ourselves Christians, Christ Followers, but we are not radically following after Him. Our lives should be so incomprehensibly different from those around us. We should be so dramatically, incredibly, undeniably, unswervingly, fanatically, and all-out in love with the God who created the Universe that it is absolutely impossible for anyone to look at us and say that it is otherwise.

So this is my challenge to you: to crave growth and to crave it always. Because if you do, if you seek God with all of your heart because you are consumed with a ravaging hunger and an unquenchable thirst for Him, He will satisfy you. And that satisfaction no man can take away.
---
TO MY FATHER
:: written by a grOver who is a junior at North Central High School ::
i stepped into darkness without knowing
but you pulled me out
you killed the snake that bit me once before,
sucked the poison from my soul,
tamed the beast within my heart.
you showed me your light
everyday you were the shoulder i leaned on,
the extra footprint in the sand
you carried me home when i ran away
you caught me when i jumped from the lonely cliff
you were my shield from the evil path,
the apple of knowledge from the tree of life,
the white robe that comforted my aching body
you gave me the happiness i longed for.
i will never forget the day you found me,
i was lost and you were my direction
you showed me the air i'm supposed to breathe
you nurtured the wisdom i cried for
but most importantly,
you showed me the love i needed-
the endless love that healed the wounds in my heart.